Siebenbürgen (Anglais)
04/08/05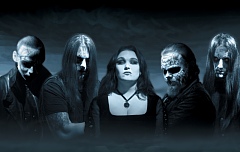 1. First of all, can you tell us what happened between the rehearsal of Plagued be thy angel and this very day for Siebenbürgen ?
Well, After "Plagued be thy angel" was released, we toured in both Europe and Mexico. After that I decided to get an education, so for one year I studied at a sound engineering school named SAE here in Sweden. When I graduated we thought that it was time to record our next album, but it turned out to be more difficult than we ever could have imagined. It started out great, with new members, new energy and great new songs, the only dilemma was that "new member" also meant "new problems". We really thought that we knew one of the new members, but man was we wrong. Anyway, it all turned out in a two year long conflict which ended up with that we had to departure with our lead guitarist and start to write new songs just a couple of months before to recording of "Darker designs & mages". If I look on it now, I know that it was for the better, the new album turned out even greater than it would have, and the band is more bonded together than ever too. "Rebellion" is the oldest song. It was created right after our euro tour for "Plagued" and it remains intact, the only thing that has changed is the solo part. The other "old" material used is in the song "Ut Ur Graven" which was taken from one of our demo tapes.
When we fired our lead guitarist we had to re-write more than half of the songs for the new album. Basically everything that he had a part in we had to take out. It was not a problem really and we are much more pleased with how the "new" songs sound than the older material. If I look on it now, I know that it was for the better, the new album turned out even greater than it would have, and the band is more bonded together than ever.
2. Musically, which differences could the listener find between Plagued… and the future release?
"Darker Designs & Images" is a much more even album I think. The only musical differences that I could find is that it's a new album, four years has passed since "Plagued…" and we have grown as music writers.. The only thing I think could have been better on "Plagued" is the production, which is really poor, it sounds "dead" to me.
3. Just after the Plagued… album, Ekström and Höjiertz left the band. For which reasons?
It's correct that Kicki Höijertz left the band together with our guitarist Linus Ekström after the recording of "Plagued be thy angel", they didn't even join us on tour. Even to this day we actually don't know exactly why they left, but we have our suspicions. You can say that the relationship between us was kind of tense, haha. Instead of Kicki another girl joined us, Turid Walderhaug, which turned out to be a real bad choice. She joined us on tour and made a really terrible job on stage so we fired her immediately when we arrived home. After that tour our bass player Fredrik Brockert left us too. As a replacement for Linus we got Fredrik Folkare, a guy who seemed right in the beginning but as time went by he didn't fit Siebenbürgen, so we departed with him as well just a couple of months before the actual recording of "Darker designs & images".
4. What did Fredrik and Erika bring to the band, humanly and musically ?
Fredrik is no longer in the band, so I really don't want to talk about him. Erika is a great person and a great vocalist. She was a friend of a friend and she heard we were looking for a singer and she tried out for us and here we are. She is a schooled opera singer and has worked for the Royal Swedish Opera and is now studying music in Denmark. We hope she can have time off for touring with us but we don't know yet. If she can't we have to find a replacement for her on tour. But be sure we will record with her again. She's just a cool person and feels like a natural part of the Sieben "family" you know.
5. Which is the meaning of this title given to the future album, "Darker images and designs"?
"Darker designs & Images" stands for the new machine that defines our latest album. This album is a more darker and vicious album, both lyric wise and musically, than our previous albums. Therefore the title; "Darker Designs & Images".
6. For you, what does "Siebenbürgen"(Transylvanie) mean? In which way does it stand for the band?
In Scandinavian history it was used as the name of Transylvania, and it means seven cities (or castles) as you can see on the coat of arms of Transylvania there are seven red towers on a yellow background representing the seven castles of the Transylvanian Saxons. When we started the band it seemed like a good name because of our lyrics, which where in Swedish and dealt mostly about vampires at the time. There is an element of vampirism in our lyrics today, but I wouldn't say that they are about vampires in the true sense or the word. My latest lyrics deals most about obscure myths of ancient demons.
7. On the news page of your web-site, I saw you launched a competition for your fans. What was in question in it?
We wanted our fans to "baptise" on of the songs on the new album. We had an instrumental track that we thought would be cool if our fans could interact with us so we started this competition. And the song was named "Summoner of the unseen".
8. Have you yet realised the art-work of Darker… Can you tell us more about it? Who had realised it?
The cover art is painted by a great German artist called Stephan Stölting. It is depicting a statue of an angel, with a waste landscape in the background, really beautiful. When we saw the picture we knew immediately that it was the right artwork for our cover. I can find myself staring at it and daydream away to the fields of Kozcad, where the final battle of Drushdaul took place. Those where the days…
9. For the final question, I let you say some words to the readers of this interview.
First of all thanks for the interview, and our future plans is to get the album out to our fans and to hear what they think about it. Then I hope that we will go on tour again, it was really too long since last time. Some ideas contain plans of a DVD, but nothing is decided yet. After that we will begin the work of the next album, and hopefully get it out before the end of next year, it will certainly not take four more years this time, haha, not a chance in hell…
Interview par Ronan