Persefone (Anglais)
26/07/05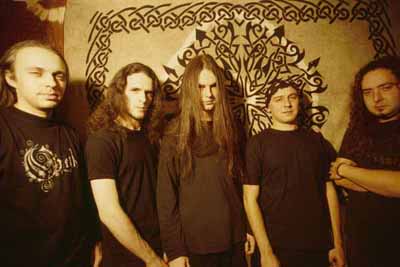 01 - Hail to Persefone, congratulations for your great "Truth Inside the Shades", and welcome on Truemetalzic.
Thanks a lot, it is a real pleasure.
02 - Can you present the band, as I think people don't know much about you ?
Of course. The band started back in 2001. Back then the band used to play cover versions of the bands they mostly liked like Arch Enemy, Dissection… Later that time Miguel Espinosa joined the band becoming the keyboard player. With that line-up, they started to write the first song they would record as a demo, "Niflheim". Having seen that the results were as they expected, they wrote the rest of the songs that would end in "Truth Inside the Shades". Again, they recorded the songs with me as the producer. During this recording process Xavi left the band and I took the place of the drummer. The result of the recording sessions was sent abroad, as always, trying to find an interested label to promote/distribute the album. This is the moment when Intromental Management made its move. They searched for the best deal to make the record available worldwide. Finally, Marc also joined the band taking care of vocals since Carlos wanted to concentrate mainly on guitars. This has been so far, Persefone's history.
03 - In your music, there are some black metal and death metal roots and also traditional heavy metal, atmospheric and prog/neo classic stuff? What are your musical sources of inspirations ? (Band & other)
What you say it is true and the fact that we have all this present in our music is because each of us has a different musical taste. All in all, we like all kinds of metal, classical stuff, traditional metal but each of us in a particular way, and each of us try to add some of its roots/likes to Persefone's sound. That is way there is such variety. If I had to mention some bands that would be very difficult, each of us would say something completely different, ranging from death metal to folk. As an example, if you ask me, well I'm more into Prog than anything else, but of course I also enjoy death metal or black metal as everyone else.
04 - What are your favourite tracks on the album, and why ?
If I had to choose maybe I'd say "Whisper of Men" and "Atemporal Divinity". These two songs combine most of everything that Persefone is about, fast melodic death metal with lots of keyboards, prog metal, clean vocals and lots of grunts.
05 - Now the first album is released, what do you think you would improve on your second opus ?
There are things that we'd like to improve, we are learning as we go on. Some of these things do not depend on us, but we'll try to do our best to make the second album better and at the same time we'll try to add a concept that will flow throughout the entire album. You'll know what I'm talking about. Also, you have to think that there have been some line-up changes since "Truth Inside the Shades" so I guess that that will inevitably affect our sound and our compositions, hopefully for the best.
06 - What are your projects now ? What is Persefone's planning for the next months ?
Well, we are now very busy writing the songs that are going to be in our second album. We expect to start recording drums in January. Also there seems to be the possibility to hit the road sometime in the near future, hopefully in the beginning of 2005. We are all willing that that will happen. We want to play live soon and to have contact with our fans to who we own all we are going through.
07 - Last question, if Persefone had much success (and that's all I wish to you!), would you be ready to leave your "normal" lives (studies, jobs or other (I don't know)) to be 200 % in metal and make music your only job ?
Is this a trick question? No, I'm just kidding. Of course we would leave it all to make music our only job. We've been into this since we where 15. This is what we want to do for living but right now it seems that not even some of the biggest names live from music only so I guess this will take some more time.
08 - Thanks for your answers and your time, cheerz from France ! A last thing to add for our readers ?
Thank you, cheers from Andorra. Keep listening to good music! And we hope to see you soon on tour!
Interview par Blaise