Battlelore (Anglais)
04/08/05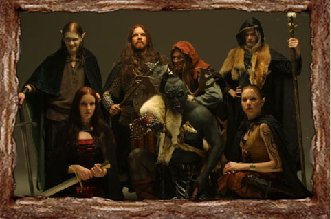 01 -
To start this interview, can you make a short historical of the band ?
Hello, This is Jussi Rautio answering these questions. Here is a small history from our webpages :
J. Vahvanen and M. Kokkola founded Battlelore in 1999. The same year their first promo CD "Warrior's Tale" was out to be reviewed by label companies. "Warrior's Tale" failed but the band didn't give up - instead Battlelore strengthened their unique style and pushed harder on forward. In the year 2000 Battlelore had a complete set of new songs and they recorded "Dark Fantasy", their second promotional CD at Music-Bros Studios, Imatra, and made it with time and care. The result was much better than what could be said about "Warrior's Tale". "Dark Fantasy" brought up very nice feedback and Napalm Records asked Battlelore to make one more promotional show out. An untitled three-track promo CD was made in a very little time and it won the hearts of the people at Napalm Records. The recording deal became reality.
In autumn 2001 Battlelore recorded their first full length album "...Where the Shadows Lie" again at Music-Bros Studios. "...Where the Shadows Lie" resulted in good reviews and got fans to stand behind it 100%. Unfortunately T. Havo had to leave the band because of personal reasons. After a while Battlelore found the talented J. Rautio to play the lead guitar.
The second album "Sword's Song" was released in spring 2003 and it took Battlelore to a totally new level in their music. "Sword's Song" was also recorded at Music-Bros Studios with Miitri Aaltonen. Battlelore's first DVD "The Journey" - featuring the energetic live show at Tavastia club - saw the daylight in the beginning of 2004 and it lead the band to even greater success than before.
In August 2004 Battlelore's majestic male vocalist Patrik Mennander had to make an extremely hard choice between the band and his work as a tattoo artist. Sadly, he had to make the hard desicion and leave the scepter and the crown as Battlelore's singer to wait some other Uruk-Hai warrior who could fill this enormous task with honour. His last performance with Battlelore was the magnificent headlining show at RingCon, the official Lord of the Rings Festival in Germany, Bonn.
After the successful Atlantis Lovelorn tour with two session members, the low-growling vocalist Tomi Mykkänen and on stage raging bass player Timo Honkanen, Battlelore had to start making decisions about the new singer for the recordings of their third album. In the beginning of 2005 Miika Kokkola, one of the founding members announced his hard decision to leave the band because of personal reasons. Thus, Battlelore had to start looking for a new bassist also. They didn't have to look far – the best men had already been tested for the job. Battlelore asked the two outstanding warriors to join them as full-time members. Tomi Mykkänen, the new Uruk-Hai warrior with raging vocals, and Timo Honkanen, the great stage performer with bass, are the perfect addition when Battlelore continues their journey through Middle-earth.
Let Battlelore show you flashes from the smoky tavern at Umbar, through the green fields of Rohan and finally to the deepest dungeons of Moria. Gather your belongings, clean up your weapons and prepare for WAR!
02 - For you, which differences are there between Third age… and the last album ?
There has been a new approach towards arrangements. We tryed to avoid stuff that weren`t crusial for each song. There is fewer tracks of music but it sounds more cause there is lots of space and dynamics. In Sword Song there are so many tracks that you can`t even hear all instruments and melodies. Also nothing sounds powerfull when there is no place to breathe. I have also started to compose more songs and in Taots I have written about half of the songs. Terie Refsnes, our producer, had also good vision for mixing and atmosphere.
Also I think compositions have taken a step further and now we know better what we want from production.
Now we concentrated on more simply expression and more focused atmosphere. If you polish your music too much with computers it takes edge away from it. We wanted to do more analog album so people can hear the human touch behind our production.
Somehow new album sounds more "true" for me. Sword`s Song was a step for synthetisized direction and Third Age of the Sun is focused on how our band can make things work with seven of us and all of our instruments combinet. So, I believe TAOTS will have a good response from audience
03 - I've read in some magazines you were recording a video for the song Storm of the Blades. Can you tell us a bit more about this video ?
It was made by Markku Kirves in the middle of woods in Sysmä. Shooting of video took only 24 hours and during that time we also got drunk and went to sauna so it was fast sessions. Also Markku edited whole thing in right after shootings so we had final version in our hands in five days. that's about 2 months faster than at the last time.
It was exhaustingly hot day when we had to run in forest. We were also suffering a major hang over cause we had gig in previous day and had long parties until late night. As a funny incident I can tell that there were lots of cows everywhere. There was lots of shoots where suddenly cows head came to screen behind some tree. Two of us were also surrounded in one point with cows with out way to out. Cows started to follow us when we moved from one place to other so we felt like being in weird Tolkien-fantasy-western.
04 - For you which songs represent most the Battlelore style ?
For me personally it`s Journey to Undying Lands from our first record. It gasps magic feeling and it`s a epic song. There is sense of wonder in it and sound is very unique. There is also a mixture of heavier and more mellow parts wich is typical for Battlelore. From the new album I would choose Valier cause it has same kind of effect on me that Journey has and it sounds like traditional Battlelore.
05 -
What represent the name of the band Battlelore for you ? In which way does it fit to the band ?
Battlelore represents stories about mystic events, battles and journeys. When people ask what does it mean, I like to refer that lore is a tale like Kalevala. Also lore can be knowledge about something. I think it fits the band very well cause I have never even tought this group of ours under any other name.
06 - Tolkien is your influence for the lyrics, but which musician had influenced you musically ?
I try to avoid these straight influences from other musicians. I haven`t even learn to play any songs from other artists in many years. I like much more to play my own songs and I try to do new riffs every time I grab a guitar. I think most influences I get from Jyri when I learn to play his songs. I have composed half of the songs for new album and Jyri has composed other half. We have had these talks that when other represents a new song for other, then in the next song you make, you know you have taken some influences from him. Also I like to play with as many players as possible cause it`s good for creativity and gives new perspectives. Ofcourse all music I like will somehow effect on what I do. Resently I have listened Switchblade Symphony, Nick Cave, Mokoma and System of a Down.
07 - On these days, lots of bands use female vocals, as you do. What do you think of this kind of fashion?
I like women in metal scene. I like their voices and somehow I find it easier to adore women singers than men vocalists. If I would meet somebody like Anneke from Gathering I could probably just stand still trying not to collapse. Girls look also good on stage and I rather look a band playing when they have females among them. I have noticed that in Battlelore is different feeling inside it cause there are two girls with us. It is more normal environment to make music and they are good for bringing different sides to music. In some other bands I have played in has been only guys and it is also funny in a different way. Things get much more alcohol-partying-fooling around consentrated. Well it gets also to that with Battlelore expecially on tours and its more fun to party when there are women around.
Generally I hope there would be more girls on metal gigs. That would do good for whole metal scene
08 - Have you in the band different project, musical or extra-musical ?
Well, there are always these side projects and other bands where some of us play but I won`t use this interview to market them. Exept I could mention Tomi`s main project Evemaster wich is only band who have a recording deal from Battlelorians projects.
I let you the final word…
Thanks for interview and I hope we can come back to France to play some gig`s. See you there ! Stay metal perkele !
Interview par Ronan