Manticora (Anglais) (Par Email)
17/01/05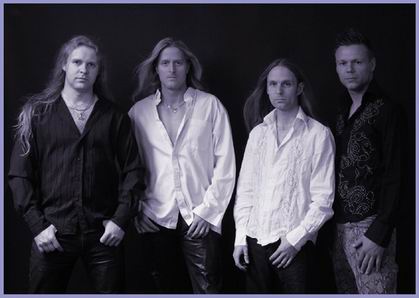 Interview with Kasper Gram (Bass) :
1. First of all, the new album is out for some months now. How has it been received by the fans and the magazines?
KG: It has been received very very well! The album got some really great reviews in the magazines, and a lot of fans have been writing good stuff about the album to us, so it has been quite a good start for the album! It's also important for us (and our music) that we now have a worldwide distribution.
2. When I listened for the very first time to the album, I've been struck by the vocals of Lars. As in some music parts, whose vibrancy reminds Blind Guardian. Are you proud of these comparisons made upon your music or not?
KG: Sure we are! Blind Guardian is a very good band and everyone in Manticora likes Blind Guardian, and as you can hear on the album, we are in some ways inspired by them as well, but of course without being a Blind Guardian-rip-off-band! So that is not a bad comparison for us at allJ I would say that Manticora is a mixture of European power metal and U.S. bay area thrash metal.
3. which feeling or sentiment do you have when you look at what you've done 'til now, the personal progresses and musical evolution ?
KG: I would say that in our musical evolution we have become more aware of how we make an album, so that the outcome is as professional as possible. We are really spending a lot of time on each song until it sounds right for us, ´cause we won't get bored by our own songs before they even are finished! Our personal progress.....hehe....We are still a bunch of immature boys having a lot of fun!!
4. How do you proceed during the writing of a new album ?
KG: Normally Lars, Kristian and Mads do all the lyrical stuff, I'm actually the only one in the band who's not writing lyrics! When it comes to the music, Lars and Kristian deliver most of the riffs and themes and then we all 4 turn it upside down and put the pieces together! Sometimes Mads and I show up with some riffs as well, but we are all part of the song writing! Usually we record everything that we make in the rehearsing room, so that next time we show up we can remember what we have done.
5. what do you think of all those bands embedding "roots" metal with orchestra or even electronic sounds ?
KG: It doesn't bother me at all. No music is bad, it's just a matter of taste!
6. in nowadays metal scene, the vogue is to put female voice beside male vocals. can you tell us your viewpoint concerning that "fashion" ?
KG: I think it's rather cool. The problem is just that too many are trying it out now, so within shortly we will be tired of it I think
7. Can you throw us light on the concept behind the title "8 deadly sins" ? how do you expect the public will react ?
KG: The whole idea behind the lyrical concept of the album, is that every single person has his own deadly sins. Some can have 1 other maybe 14 and in this case it's 8! You will commit them during your life and at the end of your days, these sins will turn in to internal bleedings and you will die! Actually we haven't got any directly comments to the concept of the album, other than people think it's some cool lyrics!
8. as a conclusion, could you please make a top 5 albums of the 5 albums that have had the biggest impact as fans, and one of the 5 albums you have loved during year 2004 ?
KG:
Top 5 as a fan :
1. Helloween: "Keeper.....Part 2"
2. Blind Guardian: "Imaginations From The Other Side"
3. Iron Maiden: "Powerslave"
4. Gamma Ray: "Land Of The Free"
5. Nevermore: "Dead Heart In A Dead World"
Top 5 2004 :
1. Angra: "Temple Of Shadows"
2. Wuthering Heigths: "Far From The Madding Crowd"
3. Iron Savior: "Battering Ram"
And of course I need to add the two albums I played on myself, hehe :
Manticora: "8 Deadly sins" and Evil Masquerade: "Welcome To The Show".
9. I'll let you the final word...
KG: Hope to see you people at our shows in France with Angra and Edenbridge! There'll be plenty of shows in France, so no excuses for not showing up at least one time!
Thanks to Kasper for this interview !
Interview par Ronan